The NOVEMBER RAIN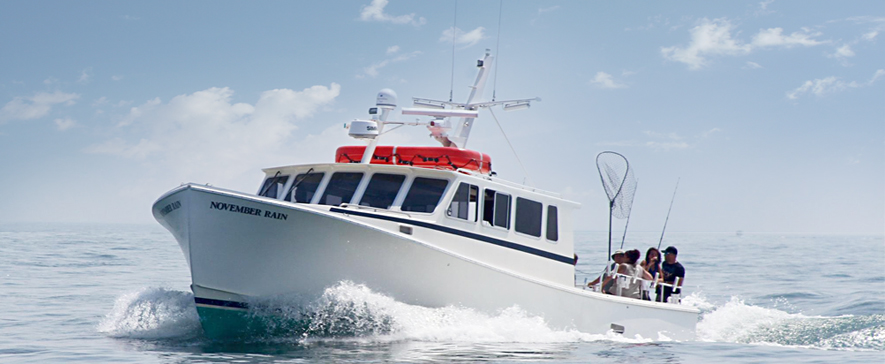 The NOVEMBER RAIN is a 43' Lowell, powered by an 800 hp Caterpillar diesel motor. She is USCG certified to carry 20 passengers, though we typically recommend no more than 15 people for fishing trips. With a total length of 43 feet and a beam of 15 feet, the NOVEMBER RAIN provides a spacious cabin and a comfortable and stable ride.
We started NOVEMBER RAIN CHARTERS in 2003 and have worked very hard to build and continue growing a successful business since then. In 2014, we purchased the Lowell and completely rebuilt the boat. In the spring of 2015, we began sailing as a multi-passenger charter boat. 
The NOVEMBER RAIN fishes from May through December. During the winter months, we are hard at work on repairs and enhancements to maintain the boat looking beautifully and running as well as it does. We remain tremendously satisfied with her and receive continuous compliments from clients and friends. The hard work pays off!
The boat is outfitted with:
Carpeted cabin, with booth and bench seating
Air conditioning and heat
Galley, including a fresh water sink and microwave
TV and Bluetooth-enabled satellite radio
Topside bathroom (head)
250 quart Yeti cooler for food and drink
For further information about the boat, you can give us a call at 646-423-8806 or 646-335-7315, or email us at This email address is being protected from spambots. You need JavaScript enabled to view it.. And if you find yourself in Montauk and would like to take a look in person, feel free to stop by and visit us at Westlake Marina.
Further below this page you'll find photos and details about the Lowell rebuild in 2014-2015.
June 29, 2015
Montauk, NY
It's finally official...NOVEMBER RAIN is now certified as a Small Passenger Vessel. We had our last visit with USCG today. They looked over everything on the boat -- from electrical work, to fire suppression systems, to safety equipment, to required navigation aids, publications and logs. Even took a quick ride for a man-overboard drill. When all was said and done, we received our long-awaited Certificate of Inspection (COI). Effective immediately, we'll be able to carry up to 28 passengers!!! Granted, we won't be advertising to carry that large of a group, but having the flexibility for non-fishing trips (i.e. sunset cruises) is tremendous. Many thanks to the members of Coast Guard who conducted the inspection. They were knowledgeable and patient with us and addressed all of the questions we had. And, of course, super thanks again to Atlantic Service and Equipment for all of their hard work on the boat. We're finally there! First multi trip is tomorrow!
June 9, 2015
Far Rockaway, NY
Had our stability test today. Passed with flying colors. Expect to be certified for 25 passengers (or so). Inspection will likely be next week. For now, we'll sail as a 6-pack. Fortunately, next few trips are 6 or less. We should have the COI in a couple of weeks. Sea-trialed the boat a little while ago.
Making a few last tweaks. Then steaming east Thurs/Fri.
Hats off to the boys at Atlantic Service & Equipment. Seriously. Just an absolutely tremendous job.
And, likewise, to the Lowell family for building an outstanding hull!!! Hit 26 knots today and the boat, as big and solid as it is, just cut through the water. Was AWESOME!!
Here are a few pics, including one with the AS&E crew puttin' a load on her!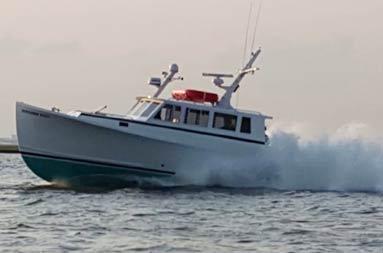 Hit 26 knots at top end. Not too shabby...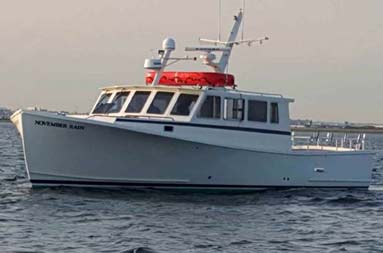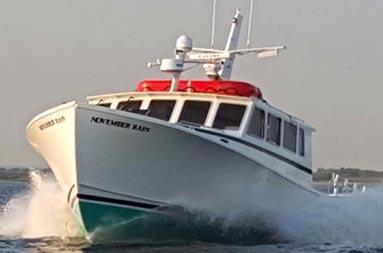 Love this pic. Cruising along here...(more)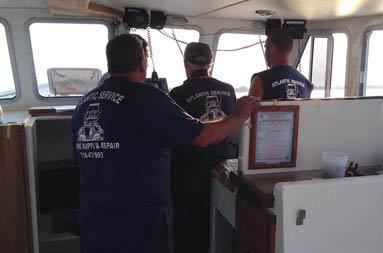 Couldn't resist this shot...(more)
June 5, 2015
Far Rockaway, NY
Still on the hard. Should be floating tomorrow morning. But here's a little music to my ears...
June 3, 2015
Far Rockaway, NY
Here she is...the new NOVEMBER RAIN. Fresh out of the tent. Deckhouse stripe, antennas and masts will be on/up shortly, but this is really our first look at the boat from more than 2 feet away. My mouth hurts from smiling. There are no words to explain how excited we are.... More pics soon.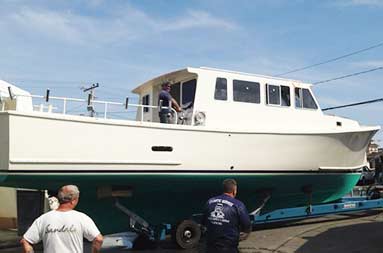 I'm in love....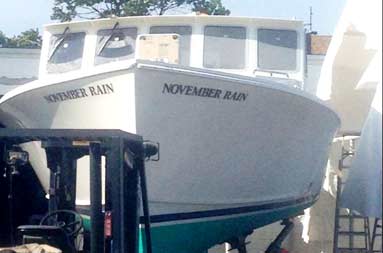 Pic's a little grainy, but you get the idea.
May 31, 2015
Far Rockaway, NY
It's been a looooong winter and spring. We were hoping to be in Montauk by now but fell slightly behind schedule. Ended up having to cancel our first two trips of the season but were fortunate to get the groups rebooked with other boats. A little disappointing. However, when I get on the boat and see the work that's getting done, I realize that it's all worth it. The guys at Atlantic Service are doing a phenomenal job. There are so many details that require such close attention and they've rebuilt the boat as if it were their own. Steve's been down at the shop with them for 12 hours a day working to get it all done -- the carpentry, the electrical, the plumbing...all of it. Lou Costa, of Louis Costa Pinstriping, finished the name earlier today. It looks great. Been waiting to see NOVEMBER RAIN across the transom since this time last year! We should be coming out of the tent at the beginning of the week and are hoping for final USCG inspection by end of week. If we're lucky, we'll be in Montauk by the weekend. Can't wait to start her up and take the first ride this week. Almost time to get on that roller coaster!! We'll post updates this week...and hopefully some photos of the boat underway. More soon!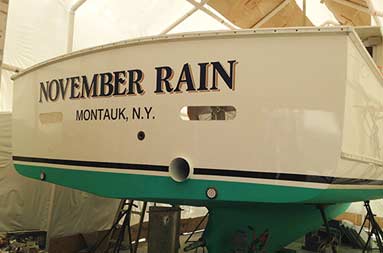 Been waiting months to see that!!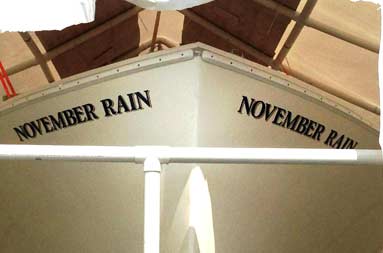 Ain't nothing sexier as far as I'm concerned!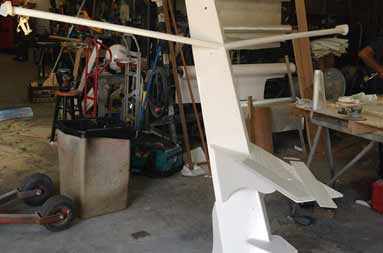 Aft mast--this was on the boat originally...(more)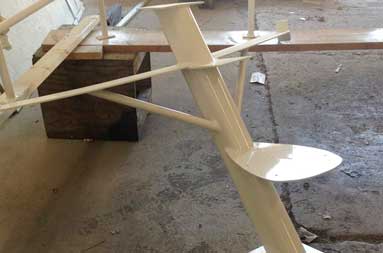 Forward mast--compliments of Atlantic Service & Equipment...(more)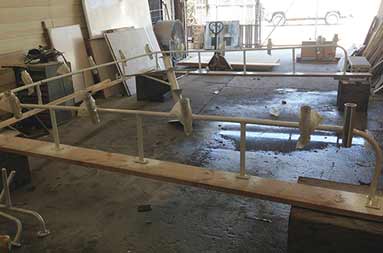 Here's the new rail for the cockpit....(more)
May 16, 2015
Far Rockaway, NY
It's mid-May and our first charter of the season is only a few weeks away. The guys have been on the boat non-stop and it's all coming together. Still lots to do, but things are moving quickly. We'll be coming out of the tent soon and will be moving down the block to the water shortly thereafter. We're waiting to finalize the date that USCG will come down for final inspection (when we'll finally know how many people we'll be certified to carry). Once done, we'll steam to Montauk -- should be the last weekend of the month. Counting down the seconds til go-time. Like a kid waiting for her first roller coaster ride, the excitement is unlike any other...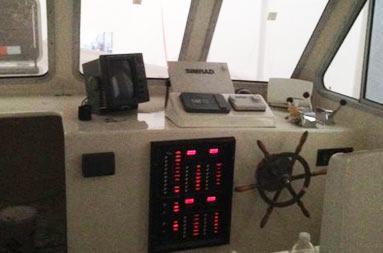 Starting to mount the electronics and have...(more)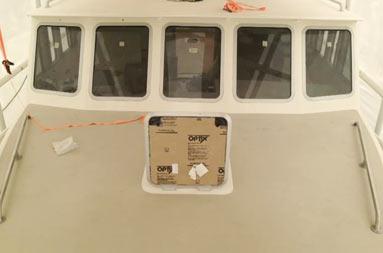 Bow is painted. Went with Awlgrip again...(more)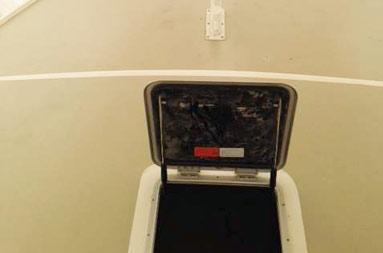 Another shot of the bow.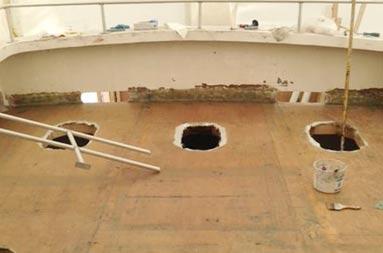 The deck is down and glassed in. Hatches..(more)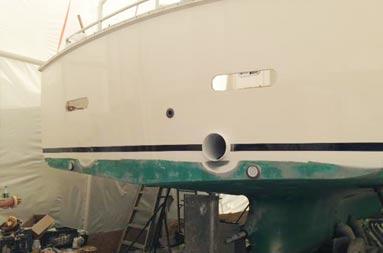 Transom has been sprayed. Exhaust cut...(more)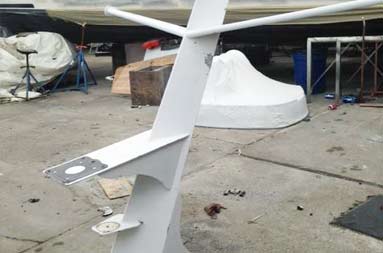 Mast has been sanded and is being repainted...(more)