September 2, 2018 (Full Day)
Had a great day fishing with John and crew today. We started off catching a few striped bass and blue fish, but when that quieted down, we turned to bottom fishing and the action was incredible. The guys put over 50 jumbo sea bass in the box, along with a mix of scup. Couldn't have asked for better fishing. Looking forward to our trip in November.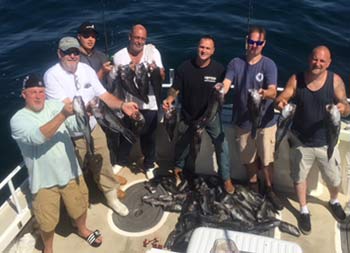 Had a couple of striped bass and bluefish early, but the sea bass fishing stole the show.
September 1, 2018
We had the pleasure of fishing with Gladys and Manuel this morning and the action was well worth the drive from Queens! Within 30 seconds of putting the rods in, they were each hooked into a striped bass. A couple of minutes later, we had two slobs in the box. Spent the rest of the morning bottom fishing and they easily added their limit of sea bass to the catch. A great trip and we're hoping we'll have them out with us again.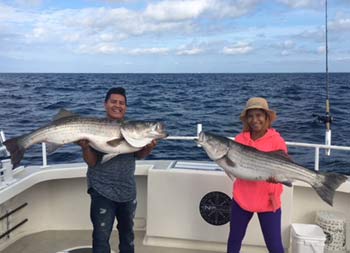 Quick limits! Gladys and Manuel had no trouble getting their striped bass and sea bass In the box this morning.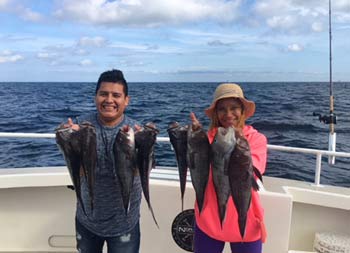 August 30, 2018
Today we had the boys from Coastal Arborcare out for one of their annual trips. The guys beat on big sea bass all day. Looking forward to seeing them again in the fall.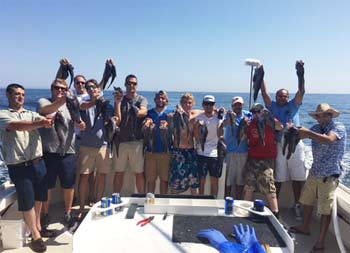 Took the Coastal Arborcare crew out today and the boys pulled together an impressive catch of sea bass.
August 29, 2018 (PM)
Adam had the boys out this afternoon, for some solid fishing. We kept the young guys busy, with sea bass the whole trip.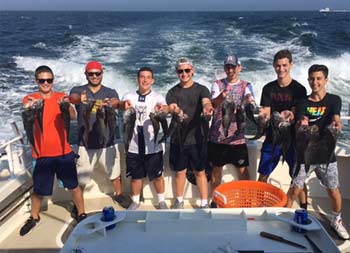 Lock-n-load sea bass fishing for Adam and the boys this afternoon.
August 29, 2018 (AM)
We had the Fantini family aboard this morning. They kept busy catching striped bass as well as some quality sea bass. Looking forward to getting these guys out again in the fall.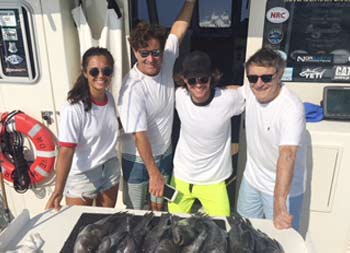 Had a blast with Tom and gang this morning. Started off bass fishing then quickly put a handful of sea bass in the box to top off the morning.
August 28, 2018 (PM)
We had the pleasure of fishing with Marian and her family again, for their annual trip. They had a fun afternoon, catching sea bass, as well as a few striped bass. Looking forward to seeing them next season. 
No photos
August 28, 2018 (AM)
It was a great morning for the McClure family. The guys kept busy with non-stop action, for first time fisherman, they got the job done quickly.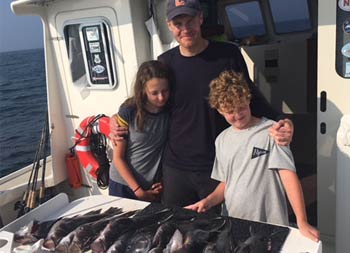 Matt and the kids were busy this morning catching sea bass. Nap time for everyone on the ride back to the dock!